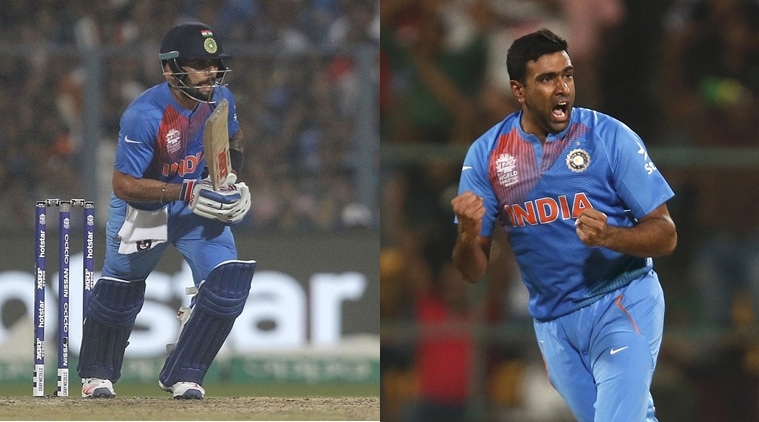 London,
Chastened by the shock defeat at the hands of Sri Lanka, India captain Virat Kohli hinted on Saturday that star off-spinner Ravichandran Ashwin could be back in the team against South Africa in the must win Group B clash against South Africa.
"As I told you people there are a number of possibilities. We have already looked at the last match. Anything is possible. Any combination is possible. I am not in a position to reveal anything more at this stage," Kohli said at the pre-match press conference here.
"We have discussed changes in the dressing room and all kinds of possibilities exist."
Kohli was asked about the possible changes in the Indian line-up for Sunday's match looking at the fact that there are three left-handers at the top of South Africa's batting order.
Sunday's game will be a virtual quarter-final as both India and South Africa need a win to enter the last four stage. Both teams have identical records of a win and a loss from their previous group matches.
Kohli also backed Yuvraj Singh to fire on Sunday in what would be the Punjab southpaw's 299th appearance in One-Day Internationals (ODI).
"It is a magnificent achievement. You have to be super skilled and super talented to be able to play those many games for the country. No one ever had any doubt over his ability to win games. He has done it in big tournaments. Tomorrow is a big game and we might want to use that as an extra motivation for him," the Indian skipper said.
"I wish him all the best for tomorrow and many more games that he will play for India. Hopefully he can turn this game into a special occasion."
India had started their campaign on a rousing note with a 124-run thrashing of arch-rivals Pakistan. But their chances of reaching the knockout stage were messed up when they suffered a seven-wicket loss to Sri Lanka in their next game.
But despite being faced with a must win situation, Kohli insisted that the Indians are not under any extra pressure.
"Such matches against South Africa test you as a player and team, the team that holds its composure tomorrow, will win. We should not get excited about it," he asserted.
(IANS)